Want To Replace Garage Door Panels? 5 Question Answered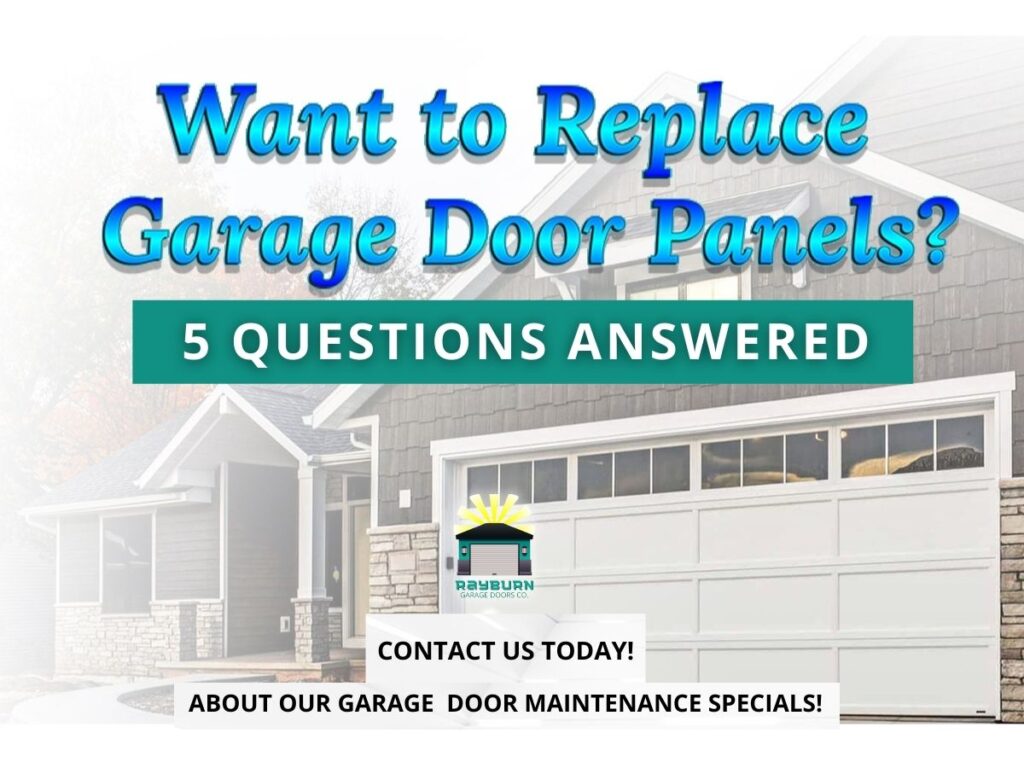 There are a few things worse to look at than damaged garage door panels – since your garage doors make up a large portion of your home exterior, cracked or dented panels can cause a big eyesore. Just a couple of dents is enough to make you call a garage door repair Plano TX technician!

Aside from how it looks, cracked or dented panels could also affect you in a practical sense. The garage doors won't be able to protect the interior fully. Draft, pests, or wildlife could easily enter inside. Security is a big issue as well because anybody could pry the cracked portion easily.

The bottom panel is usually most prone to wearing out after a couple of years. After all, it's the part most frequently exposed to garage flood, insects like termites, and dirt, among other things.

If your panels look worse for wear, read about these common questions. We answered them based on our experience as a longstanding garage door repair Plano, TX company. Hopefully these inform you on what to do when it's time to replace garage door panels.
When Should I Replace Garage Door Panels?
Of course you need to see apparent damage. Dents and dings compromise your garage doors. Aside from these, there are certain signs that it's time to call your garage door repair Plano TX professionals to replace the panels. These include:

– Paint is cracked or peeling off easily – it will be unsightly, and chipped paint might contaminate your garage area.

– Garage door panels are rusty – like chipped paint, rust just looks bad and will compromise the durability of your garage door.

– Dings and dents on several panels – you might experience bad weather, hailstones, or just rowdy kids playing football. Any high impact on the garage door panels could cause little dings or dents.

– Panels have been used for more than a decade – it's perfectly expected that garage doors will wear out. Years of constant use will eventually require new garage door panels to freshen up your property.

– You want a new style – whether you want intricate, carriage-style garage door panels, or stick to contemporary custom garage doors, garage door panel replacement is a must if you're changing the look of your garage.
Again, certain signs point to it's time to replace panels, but it depends on your goal and budget. Consider how much damage your panels have. If the rest of your garage door is still in good condition, or if you can deal with minor paint damage or light dings on just one panel, maybe hold off on getting an entire panel replacement.

But if you have significant damage on the bottom panels due to a car hitting or storm aftermath, then that's probably beyond a simple garage door repair. Take note, the panels might not be the only parts damaged, Some of the connected hardware or moving mechanisms may also be affected. In this case, it's best to have an expert technician check the garage door.

The rule is: if multiple panels are damaged and there's already structural issues, then it's better to have new garage doors.
Can I Replace Them Myself?
This is a big no! Every member of the garage door industry will agree to this: do not, under any circumstances, attempt to replace panels by yourself.

Different garage doors use different materials. Even so, most panels are heavy and solid in structure. The springs counterbalance this weight to control the door's movement. Anything that goes awry could spell disaster for you – don't attempt to DIY this garage door project. Hire a professional garage door repair Plano, TX company instead.

Make sure you discuss your garage door service what model of door panels you have, the approximate size of panel/s to be replaced, and which section is damaged if it's the top, midsection, or the bottom part.
A lot of factors can affect cost. For one, it varies depending on the material of your doors and the level of damage. Generally, the average price of a single panel would run about $200-$700, depending on the model and brand.

Of course, garage door repair will be the more affordable option – each steel panel is around $130, while wood panels go upward in the $200 or more. Aluminum and fiberglass panes will knock you at about $150. But if the entire garage door is too worn out, it will be more cost-effective to replace the whole garage door.
Will The New Panels Match The Old Ones, Or Will It Look Weird?
If you need a single panel replacement, you have to consult your contractor about it. They'll be the ones to research if that specific panel is available at the garage door panel manufacturer. If your doors are no longer in circulation, but there's an identical panel, a solution is to repaint. It will make the newly installed panel match with the rest of the door. Consult with your garage door service team which paint formulation is best for the panel to achieve a seamless look.
Let Us Assist You On Garage Door Panel Replacement
Here at Rayburn Garage Doors Co, we have years of experience in different garage door panel replacement. Our professionals can assist you will all garage door repair Plano, TX and decision-making for your garage door upgrades.

Have any more nagging question about replacing panels? Get in touch with us today to learn more!